A new Top Five Tuesday, the promts are created by Bionic Book Worm. I love a good thriller or mystery story. The best ones keep you guessing all the way through, thinking about it when you're not even reading the book. This list is a good one:
1. The Girl on the Train by Paula Hawkins
This book is so incredible, it's written from the points of view of three women. Rachel who is divorced and an alcoholic, she stalks her ex-husband and his new wife. Everyday on her way into London the train stops outside the back of her old street. She always sees a couple there, she makes up stories for them but one day the woman goes missing. The book is tense, gripping and even frustrating as we watch Rachel sink deeper into her alcohol fueled delusions.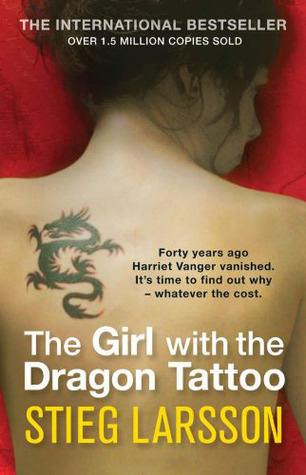 2. The Girl With the Dragon Tattoo by Stieg Larsson
The whole Millennium series is brilliant but I think this one is my favourite. Mikael Blomkvist is a determined journalist who doesn't cower away from taking on big companies. Unfortunately he is about to spend some time in prison for slander. Until a mysterious businessman comes to him with a proposal, if Mikael investigates the disappearance of his granddaughter he will get the proof he needs to take down the company that are sending him to prison. We also of course meet Lisbeth whose entire life is one mad event after another, can everyone just leave her alone! I couldn't put this book down, it kept me thinking about it while I was at work or commuting. It's a work of genius.
3. Blue Monday by Nicci French
This is the first in the Frieda Klein series. Frieda is a psychologist and therapist. She sees private clients but she also consults with the police. One of her patients is having psychotic episodes in which he sees himself kidnapping and harming a young boy. Recently a young boy has gone missing in London, the patient probably saw the story and it triggered something. But Frieda feels something isn't right. I really enjoy the psychological angle this book takes and the characters, especially Frieda are so well written.
4. Before I Go to Sleep by S.J. Watson
This book is so chilling. Christine suffered an accident and since then her long term memory has gone, everytime she wakes up she knows nothing about her life. Her husband has set up pictures and notes all around the house to remind her. Christine's doctor has also suggested that she writes a diary at the end of each day. But her last few entries are disturbing and strange. She doesn't know what's real and who can be trusted. This book is quite scary and very clever.
5. The Bed I Made by Lucie Whitehouse
Kate flees from an abusive and vile boyfriend to the calm and quiet of the Isle of Wight. But while she is staying on the island someone goes missing, possible suicide. We flashback through Kate's memories and present time as she learns about the missing woman, Alice, and why she would take her own life. All the while her past shadows loom, waiting to catch her. This book is set really close to where I live so bonus! But it's really good and it keeps you guessing all the way through.
That's my list, what are some of your favourite mysteries or thrillers?